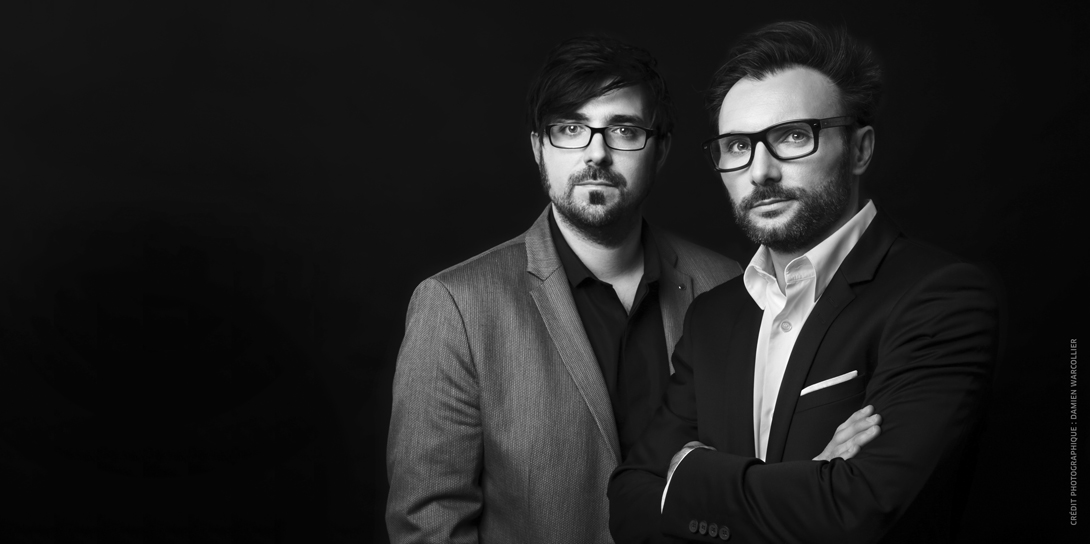 About us
One name, two artists.
A duo that stand as a reflective entity in themselves, Tazas, or more precisely Tazas Project are in keeping with a hyper-lieu: combining their ideas to create an extraordinary and unique creative space - connected yet intimate, boundless but condensed, and overflowing with possibilities which bring together art, design, and technology. Guillaume Beinat Prunet and Alexandre Suné, graphic designer, photographer, and multimedia artist respectively, are both graduates from Toulouse School of Fine Art. Ever since, they've been pushing the boundaries of the spectrum of their various projects – projects as technical as they are poetic in their chosen medium and method.

The projects become independent subjects offering a framework for interaction. Presented as in- situ installations like the recent exhibition at la Biennale PanOramas or the Bordeaux Opera House, they evoke the work of David Rokeby and Ali Momeni. Through their explorative work, they endeavour to create and put into context a particular materiality - implying a specific design through the understanding and manipulation of space and time. The devices created echo the material which is distended, contracted, or transformed – be it visually, through touch, or through sound. This experimental context lies within the scope of pioneer artists such as Steve Reich and György Ligety.

"Digital craftsmen": an oxymoron which could seem like a false pleonasm, actually defines the singularity of their combined approach – always directed and choreographed with precision.

Tazasproject is currently working on several interactive projects, art exhibitions, and running workshops and courses in different schools such as ECV Bordeaux in France. Whether for professional or cultural purposes, this French duo is developing a vision today that anticipates the future of interactivity.

Who we are! (video in french)
Alexandre Suné
R & D Director.
Lives and works in Toulouse - France. Graduated with honours from Toulouse School of Fine Art in 2003, where he developed his interest in digital art. Since then, he has built his projects around residencies and exhibitions: Citée internationale des Arts – Paris, Roanoke College – Salem, (Virginia - USA) and the Festival Night Shot, etc. His work poetically questions our relationship with space. Using interactive methods and clever machines, he sculpts sound and projects images of intangible reality. It was during the QRTØ exhibition in Toulouse that he first teamed up with G. Beinat Prunet, and so began "Tazas Project". In 2012, they created Digital Interlude; an interactive installation on a giant LED screen for the Nuit Européenne des Musées. The two artists continue working together today on interactiv installations and several exhibition projects such as "Dataflow".
Guillaume Beinat Prunet
Art Director.
Lives and works in Toulouse & Bordeaux - France. After graduating from Toulouse School of Fine Art, Guillaume Beinat Prunet cultivated his aesthetic and developed his signature style from 2006 to 2008 across Germany and Japan following his research on the construction of symbols and images. On his return from Tokyo, he continued working on these themes and exhibited his work at several events. Through his diverse installations, Guillaume Beinat Prunet confronts us with the unknown, the personal with the masses, and plays on cracking the codes of a society in hyper-expansion. He has been coordinating the "Tazas Project" with A. Suné since 2010 and participates in world events, projects and festivals dedicated to digital art. Mixing paper-based and digital graphics, his main focus is on the relationships between space and body, sound and vision, human and machine.
Exhibitions :
• "DataFlow", solo exhibition. Galerie 3.1 - Département de la Haute Garonne de Toulouse, France 2019/20
---
• "Essaims Sonores", Interactive Installation for Climax Festival. Eco-syst&eagrave;me Darwin, Bordeaux, France 2018
---
• "#SignsOfTheTime" Interactive Installation, (collaboration with Nicolas Daubanes). Bólit, Centre d'Art Contemporani. Girona, Spain 2017
---
• "Inspiration Festival" - Interactive Installation (Aurora), VDNKh - Moscow, Russia 2017
---
• "Meeting #03_L'expédition fantôme" - Interactive Installation (featuring Dr Gordon Marsh). Lieu Commun Artist Run Space Toulouse, France 2017
---
• "Waiting for a sign", interactive exhibition, Roanoke college Olin hall galleries - Salem Virginia, USA 2016
---
• "Aurora", Interactive Installation, Digital Art Biennal of PanOramas, Bordeaux, France 2016
---
• "Connected Conference", invited to speak about our research on Augmented Reality, Le 104 Paris, France 2016
---
• "Plus que parfaits... Corps augmentés en scene", Summer Exhibition, Interactive Installation, Opéra de Bordeaux, France 2015
---
• "CaféKultur", collective exhibition, Institut Français - Timisoara, Romania 2015
---
• "Clutch Art Book ", Artist book, Edition - Toulouse, France 2015
---
• "Between Science & Art", Interactive installation in conjunction with the "Michal Piotr Boym retrospective", Macao 2014
---
• "Neoptera", Interactive Installation, Digital Art Biennal of PanOramas, Bordeaux, France 2014
---
• "Behind his eyes", Interactive installation, Centre Culturel Bellegarde - Toulouse, France 2014
---
• "Spectres & Variations", European project and prize for digital installations in the Petiet Museum - Limoux, France 2013
---
• PanOramas, le parc des Coteaux en biennale", Augmented Reality devices for "Paysages sonores", Bordeaux, France 2012
---
• " QRT.0 ", solo exhibition GHP Gallery - Toulouse, France 2010
---
• International antiquarian book fair, on the question of "what's an artists' book?" Paris 2010
---
• " Papier Machine ", collective exhibition - Galerie Kamchatka - Paris, France 2009
Prizes:
• "Open Data - Toulouse métropole" - for "Flora'um" - Toulouse, France 2014
---
• Collective prize, "La novela"- for "Ville Sonore" - Toulouse, France 2013
---
• "Feder Prize", for digital installations in the Petiet Museum - Limoux, France 2013

Art Festivals:
• "Festival Indélébile", Self-publishing and zine Festival - Toulouse, France 2017
---
• "Festival Indélébile", Self-publishing and zine Festival - Toulouse, France 2015
---
• "Festival Electro Alternativ", Interactive installation, Centre Culturel Bellegarde - Toulouse, France 2014
---
• Festival " Mai Numérique ", Interactive Installation, European Museum Night - Limoux, France 2012
---
• " Festival Indélébile ", Self-publishing and zine festival - Toulouse, France 2012
---
• " Nightshot #06 ", exhibition and interactive installation, Centre Méditerranéen de L'image, Malves-en-Minervois, France 2012
---
• " Nightshot #05 ", collective exhibition about new technologies - Centre Méditerranéen de L'image, Malves-enMinervois, France 2011
---
• "Fanzines Festivals ", Graphic design, Art-zine and Self-publishing event - Paris, France 2011
---
• Graphic arts festival " Portfolio" - Paris, France 2009
---
• " Crack On festival " - Media installation, Fort Prenestino - Rome, Italy 2009
---
• " Primer festival de ilustración y edición independiente de Barcelone" - Presentation of Tazas book in Miscelanea - Barcelona, Spain 2009